Pushcarts Business Facts and Figures
By 1930, 47,000 family members depended on earnings made at pushcarts; the pushcart business generated $40-$50 million each year and more than half of all pushcarts were on the Lower East Side. Peddling kept unemployed New Yorkers off charity, and later off relief, which many saw as the ultimate humiliation. At a curb market on Hester Street, peddlers would try to make enough money for shelter in the Municipal Lodging. "They [cops] move us on a couple of times a day, but we always come back," explained one.
Permits and Licenses
A food vendor needs both a license for themselves and a permit for their pushcart. They also need a tax ID and clearance from the New York State Tax Bureau to get/renew licenses and permits, which are issued by the Dept. of Health.
Licenses are not capped, and it is estimated that there are nearly 9,000 licensed food vendors in New York. However, in 1978, Ed Koch capped the number of full-time pushcart permits at 3,000 and 1,000 permits for the summer only (April 1-October 31), effectively limiting the number of food vendors to 3,000 (4,000 during the summer). 
Vendor Restrictions:
  No vendor can sell on a sidewalk less than 12 ft wide from building line to curb (police often misinterpret this to mean vendors must leave 12 ft right-of-way between their cart and buildings).
  Pushcarts must "abut the curb" (usually a margin of 18").
  The pushcart cannot touch or be affixed to any structure (lamppost, parking meter, trashcan, etc).
  All food items must be stored under the pushcart, except for trash receptacle on the side. No food item or storage can take up any public space.
   Pushcart vendors cannot be within 20 ft of any building entrance,10 ft of any subway entrance, driveway or crosswalk and vendors cannot sell from within a bus stop.
    Pushcarts cannot be larger than 6'6″ x 3'6″ for carts with an outside vendor; 6'6″ x 4'6″ where a vendor is inside.
Business Costs:
Violation Ticket Costs in 2007:
            First Violation: $25-$50;
            Second Violation within 2 years of first: $50-$100;
            Third Violation: $100-$250;
            Fourth Violation and any subsequent: $250-$1,000.
Most vendors get multiple tickets a year, whether or not they conform to the rules. Multiply that by 3,000 vendors and that's a lot of tickets, meaning a lot of revenue for the city.
Historically, most pushcart vendors have rented from a stable; fewer have owned and operated their own carts. In 1880, pushcart rentals cost about ten cents a day. A standard cart was 8'x4', pushed on its two wheels for travel, with a stick to prop it at one end when parked.
Peddlers bought fish and produce at the docks, then pushed their carts to markets uptown. As the pushcart markets grew, express companies delivered goods from the wholesale markets so vendors could reserve their spot. Peddlers sent agents, often family members, as early as 1 a.m. to search out wholesale market bargains — the cheapest items, the lowest grade, the leftovers, the odd lots.
Peddling was, and still is, hard work: buying, bidding, unloading, arranging goods, hawking and transporting the remainder home, locking pushcarts in a cellar or on the street and carrying goods up stairs. Before 1880, some German Jewish peddlers were able to open more lucrative, less physically taxing stores, but when the economy worsened, pushcart vendors expanded their hours — sometimes to 2:30 in the morning — to survive.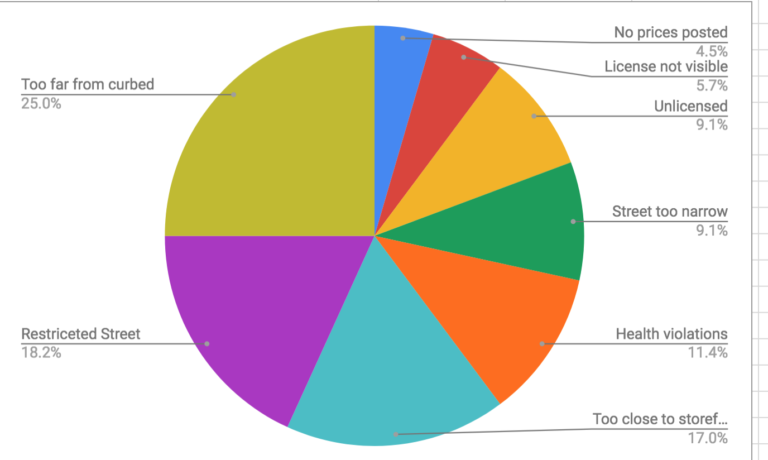 * Post sourced from NY Food Museum archive