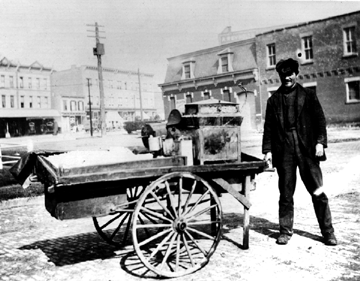 Peanut vendor near the junction of Washington
and Flatbush Avenues, Brooklyn, circa 1905
by James Harder
Walking down the streets of New York City, one cannot help but be enticed by the aroma of roasting nuts that wafts from corner to corner. This smell has become uniquely New York for so many visitors and dwellers and is often associated with holiday time in the city. It is this association, of roasted nuts and winters in the city, that makes United Snacks owner Alex Rad proud.
Rad moved to the United States from Argentina in 1981 to begin his university studies. During his time here, he learned from other immigrants that there was money to be made as a street vendor. After completing school in 1982, Rad began working as a nut vendor on the corner of 1st Street and Broadway. Three months later, he had saved enough money to buy a cart of his own. Luck was on Rad's side, as in 1982 he won a green card through the annual lottery which enabled him to stay in New York and continue building his business.
After joining forces with a partner in 1984, Rad's business continued to expand, leading to the establishment of United Snacks. By 1995, United Snacks owned more than 76 permits for carts around the city and had become the second largest concession in the city parks department. However, by the end of the year, new anti-monopoly laws set by the city stripped Rad and his partner of all but one permit and they were forced to rebuild the business from scratch. When this happened, Rad's partner decided to get out of the business, leaving him to run United Snacks on his own.
Determined, Rad saw this not as a fatal blow, but an opportunity to revise the business and make needed improvements. The carts were reconfigured to hold not just one but two copper roasting bowls, and were equipped with running water. In the past, the carts had only offered peanuts, but Rad added almonds, cashews and coconut shavings to the menu. Rad's role also changed from boss to wholesaler. Rather than owning all of the carts and leasing them to vendors, he sold each cart to a vendor, who then choose his location, but bought the nuts and other ingredients from Rad. As he is fond of boasting, Rad is now "controller of most of the nuts in the city." He is also proud of the opportunities he has provided for his vendors."Owningtheirowncarts,"hesaid,"hasmadethem produce more, work smarter and harder, and in the end they are happier because they are making more money for themselves."
* Post sourced from NY Food Museum archive